In recent years, the fire occurs frequently, which not only brings tremendous damage to human society,but also poses a great threat to human life, property, and the ecological environment . In order to reduce impact on human life caused by the fire, people use various methods for material to prevent fire. People have pay great attention to the fire retardant coating,which can provide fire protection to the materials, without affecting their physical and mechanical properties . However, the mature products of fire retardant coating are so less, that can not meet the needs of society and people. In order to improve and enrich the fireproof coating system, it is very important to further study transparent fire retardant coatings, develop novel transparent fire retardant coating.
In recent years, the research group of Yuan Hu, the Professor of the State Key Laboratory of Fire Science at University of Science and Technology of China, focuses on the new viable design method of novel flame retardant monomers by molecule regulation and the structure and composition change of coating. And a series of new progress had been made in the design and fabrication area of transparent flame retardant nanocomposite coating. The related research results have been published in a series of famous international journals, such as polymer, Materials Chemistry and Physics, Polymer for Advanced Technologies and admired three patents.
Although the flame retardant coating can protect materials, but it still has many shortcomings, such as long curing time, low transparent, a large number of volatile organic gases (VOC) release. It is also very important to improve the adhesion between coating and matrix, and mechanical properties. Based on this, some flame retardant monomers containing phosphorus, nitrogen and silicon were synthesized by the way of molecular design on the basis of the latest research progress and the limitations for the present transparent flame-retardant coating. UV-cured technology, halogen-free flame retardant and nano-composites were combined to prepare a series of type of transparent flame retardant nanocomposites coatings. Based on the intumescent flame retardant mechanism, the ratios of phosphorus and nitrogen were adjusted to prepare a series of intumescent flame retarded coatings through UV-cured technology (As shown Figure 1). Coatings has high transparency, high limiting oxygen index (LOI),high char yield and lower peak heat release rate.
Figure 1. The expansion (left) and transparency (right) of flame retardant coatings
This flame retardant coating has been applied to the textile and wood. The research results show that coating endows cotton fabric with a good protection, which can reduce the PHRR and THR of cotton fabric effectively and retard its combustion behavior. Coating can also reduce the carbonization volume and mass loss. Coatings possess excellent swelling carbonization properties, which can prolong the fireproof firing period (As shown in Figure 2). The research results have been published on <Materials chemistry and physics>, <Progress in organic coatings>, and so on. Such transparent flame-retardant coating has been applied in the Eleventh Five-Year" Technology Support Program named The plateau ancient building fire safety research as the representative of Potala Palace, which provide the theoretical basis and data supporting for the maintaining the Potala Palace in Lhasa.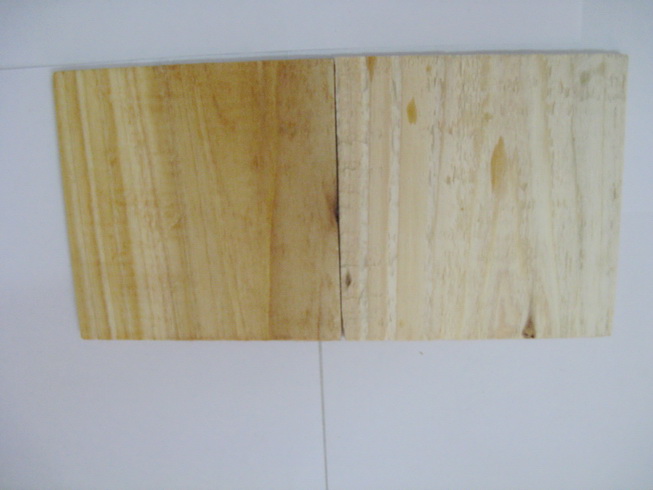 (a) Wood before burning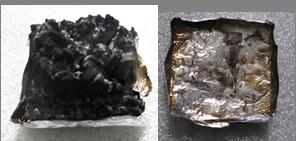 (b) Wood after burning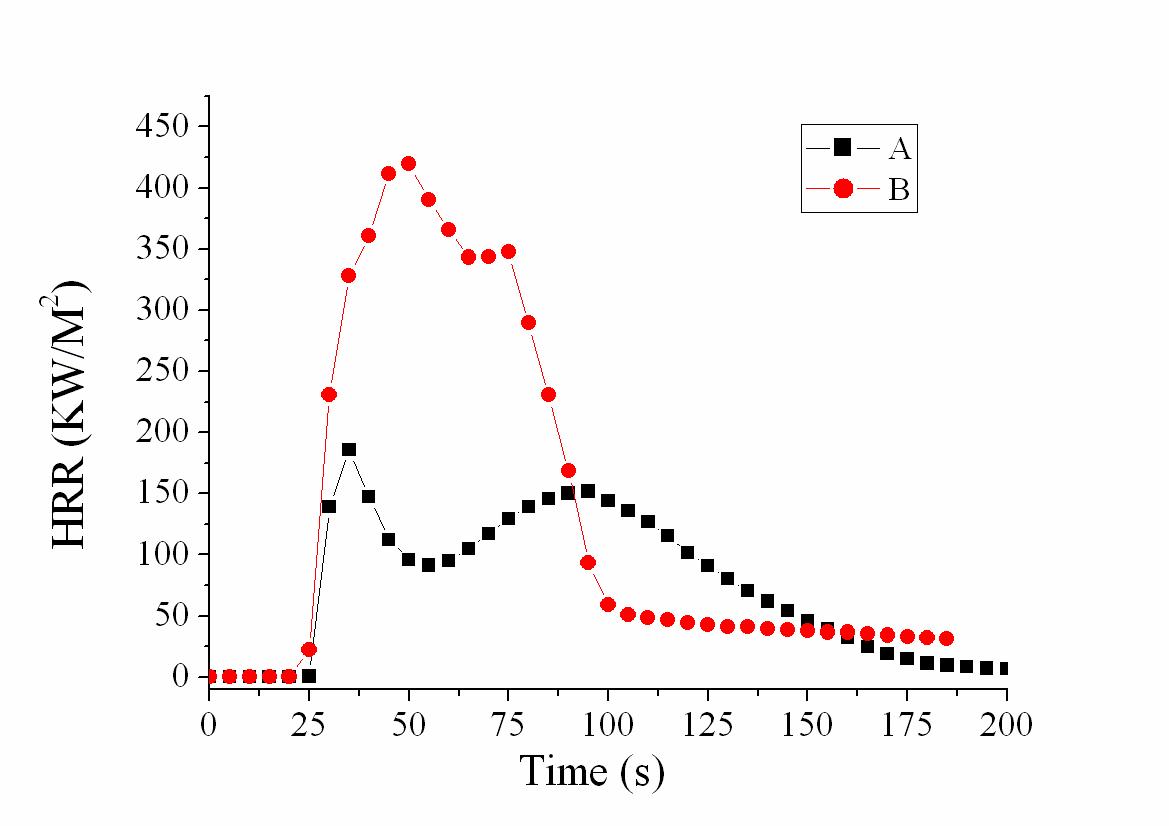 (c) Heat release rate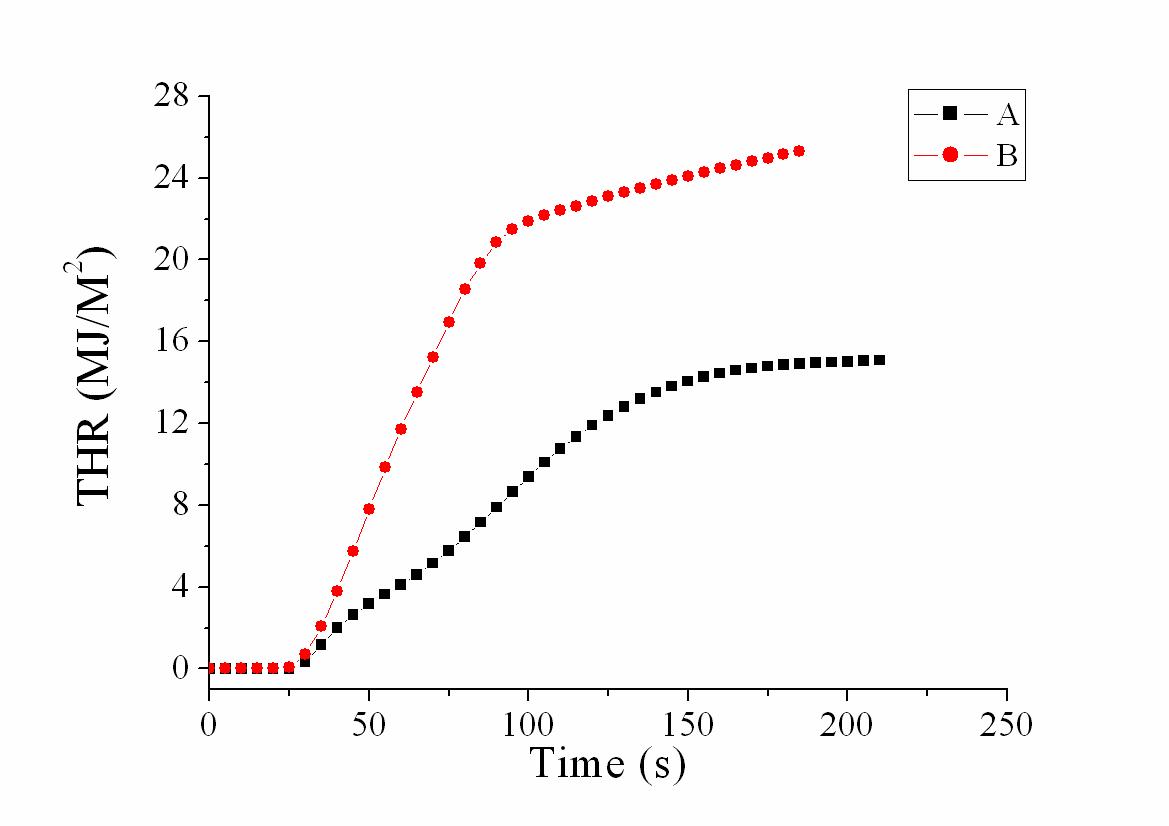 (d) Total heat releases
Figure 2 . Comparison between woods with coatings and without coatings