On the 27th of July, the University of Science and Technology of China (USTC) had the honour of hosting a notable academic exchange with Professor Kuang-Chung Tsai and Professor Chia-Lung (Farian) and their PhD students at the State Key Laboratory of Fire Science (SKLFS). During this occasion, Professor Tsai's research group has actively pursued enlightening presentations. These engaging discussions stimulated profound thought among the students, fostering an environment of curiosity and intellectual exploration. Following the presentations, numerous students actively engaged in a lively question-and-answer session, further exchanging their research ideas with Professor Tsai.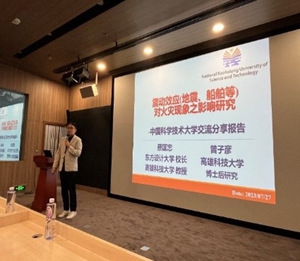 Subsequently, accompanied by Professor Yu Wang, Professor Kuang-Chung Tsai, Professor Chia-Lung (Farian), and their respective team members had the opportunity to visit USTC's laboratory facilities and campus. This visit not only deepened the bonds of friendship but also paved the way for potential collaborations between the two esteemed institutions.

It is worth noting that Professor Chia Lung Wu has recently been granted the Chinese Academy of Sciences Taiwan Young Talent Programme (Host by Prof Yu Wang), an award bestowed upon only ten individuals annually, underscoring his outstanding contributions and expertise.