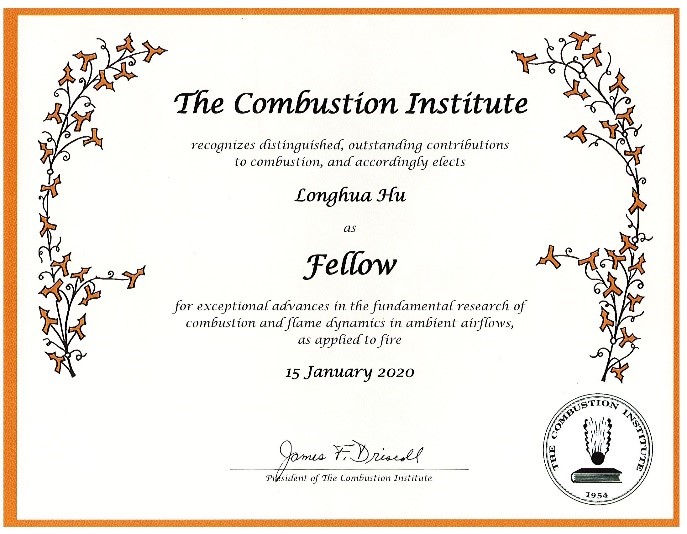 Recently, The Combustion Institute (CI) announced the 2020 class of Fellows of The Combustion Institute. The 27 elected Fellows are recognized by their peers as distinguished for outstanding contributions to combustion, whether they be in research or in applications. Prof. Longhua Hu from State Key Laboratory of Fire Science (SKLFS), University of Science and Technology of China (USTC) was awarded 2020 class of CI Fellow "for exceptional advances in the fundamental research of combustion and flame dynamics in ambient airflows, as applied to fire".
The Combustion Institute, founded in 1954, is the most authoritative academic organization in the international combustion community. Fellow of The Combustion Institute is a lifelong honor to recognize the outstanding scientists in the field of combustion worldwide. So far, a total of 190 scientists have been awarded CI Fellow, while only 10 of them are from China mainland (2 from SKLFS: Naian Liu (2018), and Longhua Hu (2020)).
Prof. Longhua Hu was admitted to USTC in 1997. He received his Ph.D. degree on Fire dynamics in 2006 in USTC, then worked here till now. He is currently the Vice-Director of SKLFS. His researches focus on fundamental combustion and fire dynamics under special boundary conditions such as ambient airflows, microgravity etc, with 33 papers published in Combustion and Flame and Proceedings of the Combustion Institute. Prof. Longhua Hu had received several top prizes and awards, as for example the National Science and Technology Innovation Leadership Talent (Sponsored by Chinese Government), ChangJiang Young Scholar (sponsored by Ministry of Education of China (MoE)), Excellent Young Scientists (Sponsored by National Natural Science Foundation of China (NSFC)), National Top-Notch Young Talents of China (Sponsored by Chinese Government), Most-cited Chinese Researchers (2014-2018, sponsored by Elsevier), Newton Advanced Fellowship (sponsored by Royal Society, UK), JSPS Fellowship (sponsored by Japan Society for Promotion of Science (JSPS)). He is the Editorial Board Member of Fire Safety Journal, Fire Technology and Tunnelling and Underground Space Technology, and the Guest editor of Special Issue on Fire Safety of High-rise Buildings for Fire Technology and Special Issue on Fire Safety of Tunnel and Underground Space for Tunnelling and Underground Space Technology. He served as the Colloquium (Fire Research)-Co-Chair (CCC) of the 38th International Symposium on Combustion (2020). In 2017, he was elected Vice-Chairman of the International Association for Fire Safety Science (IAFSS).

List of Fellow of The Combustion Institute:
https://www.combustioninstitute.org/resources/awards/fellows-of-the-combustion-institute/