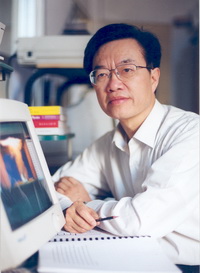 Fan Weicheng, male, Han nationality, born in January 1943, a native of Ezhou, Hubei Province, is currently a professor and doctoral supervisor at the University of Science and Technology of China. Prof. Fan also serves as Director of the Research Center for Thermal Safety Engineering under the Chinese Academy of Sciences. Prof. Fan was elected Academician of the Chinese Academy of Engineering in 2001.
After his graduation from USTC specializing in Engineering Thermal Physics in 1965, Prof. Fan joined the faculty. Prof. Fan currently assumes such academic posts as Head of the Energy and Chemical Engineering Group of the National Work Safety Expert Team, Deputy Director of the Steering Committee on Security Engineering Education of the Ministry of Education, Deputy Head of the Grant Review Committee of the Engineering and Materials Division of the National Natural Science Foundation of China, Grant Reviewer of the National Science Foundation for Distinguished Young Scholars of China, Executive Director of the International Association for Fire Safety Science, Honorary President of the Asia-Oceania Association for Fire Science and Technology, Former Member of the International Summit Forum of Fire Research Organizations, as well as Member of Editorial Board of four international journals and six domestic journals.
Prof. Fan has been engaged in cross-disciplinary research on fire safety science and engineering. He has presided over the founding of the State Key Laboratory of Fire Science and the Research Center for Thermal Safety Engineering under the Chinese Academy of Sciences. He also helped create the journal of Fire Safety Science. Prof. Fan established the mathematical and physical model of describing the interactions of buoyancy, charcoal smoke, flow, heat transfer and combustion in fires, and proposed the dual theoretical model for the description of the discipline of fire safety science and engineering. He also developed the net composite model for restricted fire zones, the multi-dimensional model for forest fires, and the non-linear fire dynamics, which has laid a solid scientific ground for combustion and fire simulation, and for detection and risk assessment. His research results have also provided innovative support for fire early warning, detection and retardation in construction, forestry, industrial, and aerospace fields. Prof. Fan has authored seven monographs, 215 research papers, and 6 authorized invention patents to date. So far, Prof. Fan has graduated 22 masters, 10 doctorates and 11 postdoctoral students. Prof. Fan has scored 14 important research achievements, whose research has earned him one second prize of the National Teaching Achievement Award, as well as the first, second and third prizes of the scientific and technological progress awards at provincial and ministerial levels. In 1996, Prof. Fan was a recipient of the May Day National Labor Medal of China.